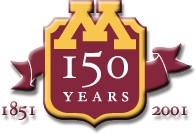 CSCI 8980 (Fall 2004)
Computation and Deduction
---
Online discussion using HyperNews
New Information:
I have posted comments on the grading of homework 3 to the homeworks page.

Class presentations start on November 30. Information about these is posted here.
---
Table of Contents
---
Lecture Times and Place: TTh 12:45 - 2:00 p.m., Akerman Hall, Room 317.

Instructor: Gopalan Nadathur (gopalan@cs.umn.edu), EE/CSci 6-215, 612-626-1354.
Office Hours: TTh 2:30 - 3:30 p.m.
---
The main requirement will be mathematical maturity at the level expected of a graduate student or a motivated undergraduate. In particular, our discussions will require a facility with aspects of discrete structures and formal arguments especially ones based on induction. An interest in symbolic issues is also essential if the course is to provide a fulfilling experience. No specific knowledge of logic will be assumed. We will develop such knowledge as we go along.
---
Course Texts and References
There is no official textbook for this course. Some part of the discussion will be based on research papers that will be distributed during the term. The lectures on basic material draw on a number of sources some of which are listed below:
Melvin Fitting, First-Order Logic and Automated Theorem Proving, Springer-Verlag. The book is available from Amazon. It will also be on reserve at the Walter Library.
J. Roger Hindley and J.P. Seldin. Introduction to Combinators and Lambda Calculus, Cambridge University Press, 1990. Will be on reserve at the Math Library.
J.-Y. Girard, Y. Lafont and P. Taylor, Proofs and Types, Cambridge University Press. The book is out of print but the authors have made it available through the web as you can see.
There is another book by Jean Gallier that is available over the web and that you might find interesting; it covers some of the ground we will go over in this course but perhaps a little differently. The site for this book and related papers is http://www.cis.upenn.edu/~jean/gbooks/logic.html.

There is a possibility that I will also make available my class notes as the term progresses. This depends on how quickly I can typeset them and how happy I feel about distributing them after I do this.
---
Course Description and Objectives
This course concerns computational aspects of logic. There are four categories of topics that will interest us:
The organization of reasoning processes. Here we will look at the structure of reasoning systems such as natural deduction and sequent calculi.
The foundations of mechanized reasoning. Here we will look at fundamental results such as Herbrand's Theorem and the Cut Elimination Theorem that are the tools for showing the adequacy of our reasoning systems. We will also study unification and possible organization of proof procedures based on these results.
Lambda calculi and their correspondence to proofs. Here we will study lambda calculi as logical systems. Proofs that are the outcome of deductions also correspond in interesting ways to lambda terms that embody programs. We will understand this relationship between computation and deduction.
Computation through deduction. Some programming frameworks such as logic programming use proof search directly as a vehicle for computing. We will understand the essential ingredients of this idea that may be referred to as "computation through proof search."
At the end of the course, we hope to have an appreciation for the richness of logic on the one hand and for the several different ways in which computational aspects interact with the notion of deduction on the other.
---
This course will be divided between a standard lecture component and a seminar part. Complementing the lectures, there will be homework problems. The seminar part will require each of you to pick a topic to study, to read a few research publications and then write a term paper that you present in class. I will suggest some topics as the term progresses, but you are also free to make your own suggestions. The requirements for the topic are that it be related broadly to kinds of views of deduction that we want to study in the course and that it involves some new work (such as reading papers that you don't already know the contents of) on your part. One specific possibility that I should mention is that of writing a program that realizes a proof procedure for some interesting logic or that realizes relatively sophisticated operations on proofs or formulas. I personally find this kind of thing quite exciting at least because I really have to understand things to get the program right. Talk to me if you would like to do something like this---I can give you ideas of things to do.

The grade for the course will be determined by the assignments (25%), the term paper (40%), the class presentation (25%) and class participation (10%). The last component includes presence in class and your role in discussions that take place, perhaps through HyperNews.

The term paper and presentation are obviously an important part of the required work. Criteria that will be considered in evaluating them is the comprehensiveness of the study, the coherence of the writeup and the presentation and, most important, the special insights that you offer into what you have read or worked on. It is impossible to do a good job on these if you do not start early and work steadily. For this reason, I would like you to adhere to the following timetable:
Talk to the instructor about a possible topic before the end of September.
Select a topic and a couple of papers to read by Oct 19. Submit a one page writeup by this date with this information.
Be ready for a presentation by November 16. This presentation should be of one class period in duration. Prepare the presentation well since a quarter of the total points is allocated to this.
Turn the term paper in by December 14. Again, take the task of writing this report seriously since it carries 40% of the grade.
You should try to keep the size of the term paper within 20 pages.
---
Collaboration and Academic Honesty
Discussions related to the homework assignments and other parts of this course are strongly encouraged. The HyperNews forums have in fact been set up to facilitate this. However, any work that you turn in for grade must be entirely your own. This means that you have to exercise caution in determining what you can discuss. For instance, it is okay to discuss homework problems so long as this is to understand what is asked, but the discussion must stop before it gets to considering answers. Similarly, when writing your term paper, you have be very clear about what you have obtained from other sources: generally, your perspectives and ideas that are valuable and that will be evaluated. Violation of these principles will constitute a breach of the academic honesty guidelines for this course. On the positive side, you learn best when you think about and do things on your own and this is what I would the emphasis to be on.
---
Last modified: November 30, 2004 by gopalan@cs.umn.edu