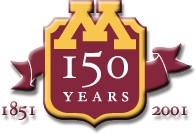 CSci 8980, Fall 2012
Specifying and Reasoning
About Computational Systems
Class Presentations
---
Information about the class presentations is provided below in the reverse order in which they are to occur and as this information becomes available.
---
Specification in Linear Logic: Why and How
Dan DaCosta
Location and Time
Keller Hall 3-111, Dec 11, 2012, 11:15 a.m. - 12:30 p.m.
Papers to Look At
An Overview of Linear Logic Programming, Dale Miller
Forum: A Multi-Conclusion Specification Logic, Dale Miller
Abstract
Reasoning about computational systems is critical to the formal methods subfield of computer science. Computational systems often have physical system analogs resulting in the need to encode state. In earlier presentations (i.e., Jason's and Ted's), we observed complexities arising from specifications where state must be encoded using non-logical constants. In this talk I will motivate by example the need for a specification logic with improved state encoding capabilities. This will lead to a presentation of Forum, a sequent calculus for linear logic. Forum is sound and complete with respect to linear logic and, perhaps surprisingly, can be viewed as an abstract logical programming language. An encoding of the original motivating example in Forum will be given that better captures state using logical constants. My talk will conclude with notable proof search issues when using the Forum presentation of linear logic.
---
Proving Properties of PLEXIL in Abella
Jason Biatek
Location and Time
Keller Hall 3-111, Dec 6, 2012, 11:15 a.m. - 12:30 p.m.
Paper to Look At
A Small-Step Semantics of PLEXIL, G. Dowek, C. Munoz and C. Pasareanu.
Abstract
PLEXIL is a planning language in development at NASA. It consists of a hierarchy of nodes, each with a small state machine that dictates its behavior. My research involves work on a PLEXIL to Java translator so that it can be run in Java PathFinder, and one aspect of this is optimizing the final code for analysis. We have a planned optimization involving combining state machines, and we would like to prove its correctness. I will present a brief introduction to PLEXIL, how I specified it in λProlog, and how Abella can prove useful properties about PLEXIL for purposes of optimization.
---
Formalizing attribute grammars using Lambda Prolog and Abella
Ted Kaminski
Location and Time
Keller Hall 5-212, Dec 5, 2012, 5:00 - 6:15 p.m.
Paper to Look At
Semantics of context-free languages, Donald Knuth.

My talk will draw on Knuth's definition of attribute grammars and a similar presentation from a paper I wrote recently, and going through the transformation of these into a λProlog specification that can be reasoned about.
Abstract
Attribute grammars (AGs) are a useful formalism for describing computations over trees, especially the syntax trees resulting from a grammar. We formalize a small AG language, and prove several properties about it.

Particular attention will be paid to the task of developing the specification of the AG language. We focus on three broad classes of challenges: (a) design choices made to be able to specify the language (in λProlog) at all, (b) design choices made to keep the specification small and reasonably elegant, and (c) design choices made to keep proofs possible and practical.
---
Proving Equivalence of Intuitionistic Natural Deduction and Sequent Calculus
Kevin Williams
Location and Time
Keller Hall 3-111, Dec 4, 2012, 11:15 a.m. - 12:30 p.m.
Paper to Look At
Take a look at the Abella walkthrough at http://abella.cs.umn.edu/walkthrough.html and also the Abella mini example of the equivalence between NJ, LJ and a Hilbert calculus at http://abella.cs.umn.edu/examples/logic/equiv.html.

It would also help to be familiar with the proof of equivalence in Gentzen's "Investigations into Logical Deduction" paper. For this, look at section V.1. Gentzen's paper is available in part one and part two from the course resources page.
Abstract
In Gentzen's "Investigations into Logical Deduction", he describes calculi for logical deduction in two different styles known as Natural Deduction and Sequent Calculus. Both of these styles can be used in either intuitionistic or classical settings. I will discuss how to prove the equivalence between NJ, intuitionistic natural deduction, and LJ, intuitionistic sequent calculus using Abella. Some key points to be covered are: the conversion of natural deduction to a context-based format, specification of the two logic systems, and a walkthrough of the many-step proof showing equivalence.
---
Translating Totality Checking in Twelf to M2 Proofs
Yuting Wang
Location and Time
Keller Hall 3-111, November 29, 2012, 11:15 a.m. - 12:30 p.m.
Material to Look At
First, check out the discussion of totality checking on the Twelf website: http://twelf.org/wiki/Proving_metatheorems:Proving_totality_assertions_about_the_natural_numbers.

Then look up the following paper on M2: An Automated Theorem Proving in a Simple Meta Logic for LF, Carsten Scheurmann and Frank Pfenning.
Abstract
The Edinburgh Logical Framework(LF) provides a means to encode formal systems in a dependent typed λcalculus. The higher order abstract syntax in LF enables elegant specifications of logic systems. It also imposes difficulties in reasoning about the specifications. One way to state and prove meta-theorems of LF specifications is by representing the meta-theorem as a type family in LF itself which defines the relation on its subjects. A correct proof consists of constants inhabiting the type family which defines a total relation. A totality checking algorithm is used to check the correctness of proofs defined by users. Theorems can also be stated and proved in a meta-logic M2 which is based on a constructive sequent calculus with proof terms. M2 allows case analysis and induction for reasoning LF specifications. Although the form of theorems stated in it is limited, significant automation is achieved by applying a proof strategy.

The `proof' of totality checking is not constructive in the sense that we only get back a yes/no answer from the totality checker. I will describe a method of translating the totality checking of user specifications into proofs in M2 sequent calculus, which is realized by translating operations in totality checking algorithm to M2 proof rules and instantiating user defined constants to fill up `holes' in the proof. Since proofs in M2 are constructive, the proof terms we get from the translation can be presented to other systems as certificates of the totality checking algorithm.

I will first describe the totality checking of LF specifications with an emphasis on the coverage checking. Then follows an introduction of M2 logic and finally the translation. I will present an example of translating the subject reduction proof in LF into a M2 proof.
---
Translating LF Specification into Lambda Prolog
Mary Southern
Location and Time
Keller Hall 5-212, Nov 28, 2012, 5:00 - 6:15 p.m.
Paper to Look At
A Meta-Programming Approach to Realizing Dependently Types Logic Programming, Zachary Snow, David Baelde and Gopalan Nadathur
Abstract
The Logical Framework (LF) is a framework for describing logics using a dependently typed λ-calulus, while λProlog is a simply typed higher order logic programming language which utilizes the logic of higher-order hereditary harrop formulas. Using a dependently typed λ-calculus allows for encoding relationships and dependencies between types and proofs. This benefit may be desirable within a logic programming language such as λProlog, where we can more efficiently execute or reason about the specifications, and so a translation between these two forms of specifications becomes of interest. Beginning with a description of LF, I will discuss a naive translation from LF specifications into λProlog specifications. From this I will highlight how utilizing knowledge about the LF specifications can improve the translation not only in efficiency but also in clarity of the λProlog programs and derivations.
---
Last modified: Nov 24, 2012 by gopalan atsign cs dot umn dot edu